(01-01-2020 Updated Version)


(Updated Author, John E. Hoyt';s New Email at Bottom of Page)

PLEASE READ THE INSTRUCTIONS
IN THE START PAGE FOR YOUR BEST WAY
TO ENJOY VIEWING & READING THE SLIDESHOW..THANK YOU:
AT PAUSE, You can manually Advance, using (Next) or Backup (Previous), each slide..jeh
(BELOW SLIDESHOW MAINLY FOR HIGH SPEED INTERNET USERS)



NOTE:
(In Miscrosoft IE browser, You can enlargen photo in slideshow by
clicking right lower box on photo, while it is playing, or pause
the show then enlargen; in Netscape browser, the slideshow will
show acual size , usually about 640 width)
AVAILABLE FOR VIEWING NOW !
VIDEO on HOYT's in MUIR, MI - 83 MB's
(Warning - You must have DSL of 150 Kb's/sec to upload - Regular 52 K Phone lIne,
it might not be fast enough & will take a long time)




(Click on Image)
To download & view on your own PC,
Please RIGHT Click at below 3 links to "Save as Target" = Download Movie files


Muir Movie-
-83.3 MB's
STANTON
&
REMUS
Video's
(Click above image to View Video in Netscape 6.2 or 7.0-You may have to select a Viewing Format -
Windows Media Player / WinAmp3 will play the 83.3 MB (.wmv) -- Right Click to Stop in IE)
WARNING-MAY TAKE A WHILE TO UPLOAD AND PLAY- PLEASE BE PATIENT
(Muir-Lyons, Ionia Co, MI - Zipfiles for Viewing or Downloading)

MUIR-LYONS MI ZIP FILE - 6.1 MB's
(Stanton Maps & Montcalm Co Deeds)
George G & Elizabeth Adell/a Hoyt - 6.1 MB's
(Documeents & Photo's)
George Marcus Hoyt
- 2.9 MB's
(Oldest son George Marcus Hoyt in Saline, Remus, Suttons Bay, MI MI Legislature & Druggist in Traverse City, MI)
Carrie Melvina Hoyt - 0.8 MB's
(m. William Dana Colegrove in Remus, MI &
Home where she grew uop & worked)

HOYT RE-UNION'S in REMUS & CLINTON, MI
===============
***NEW VIDEO'S of NOV-DEC 2002 OF HOYT ROOTS***Each of STANTON, REMUS, & MUIR, MI
( Hoyt's in Clinton, Deerfield, Tecumseh MI Videos to be done in 2003 )
( Hoyt'a in New York State and CT to be done in 2004 )
===========
( Please write or E-mail for a Cd of each, or All., include address )
Videos in (.avi) and (.wmv) formats


(Click onto This image below to view larger county wide image)



MUIR, MI PLAT MAP OF 1861





(Click onto This image below to enlargen)


J (Jonathan) G & George G Hoyt in Muir-Lyons, MI - 1875
(See above marked lands on top of Map)




(2002 MAPQUEST MAP VIEW OF MUIR-LYONS, West of IONIA, MI)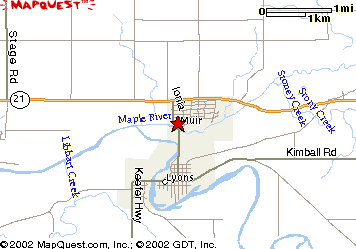 (MARRIAGE LICENSE OF GEORGE G HOYT & ELZABETH A. GEROULD)

TIMOTHY & JONATHAN G HOYT CAME TO MUIR - LYONS, IONIA CO., MI;

WITH SONS & BUT WERE FARMERS & MILLERS AT THE

TIME OF SETTLEMENT IN MUIR-LYONS, MI Circa 1842-43 to 1880's.
1. By 1881, Jonathan G. was listed in an Old Ionia Directory, "The History & Directory of Ionia County", of 1881; Hoyt, Jonathan, miller, 5, Lyons, muir, also listing his brother, "Hoyt, Benjamin, W., 13, Ionia, muir, and Jonathan G's son, "Hoyt, George G, f, 8, Lyons, muir as there residences & occupation (f) meaning farmer, (below image), as the acerage has shown on Land Deeds & a Wedding license (above).
( John G Hoyt Family & George G Hoyt Family became Head Miller's and Owners of Other Michigan Grist & Flour Mills for 4 Generations of Hoyt's, up to my father and his brother, Paul M. & Hugh H. Hoyt)).
======================================
(Click onto This image below to enlargen)
>>>>>>>>>>>>>>>>>>>>>>>>>>>>>>>>>><<<<<<<<<<<<<<<<<<<<<<<<<<<<<<<<<<

NOTE: (In Miscrosoft IE browser, You can enalrgen photo in slieshow by
clicking right lower box on photo, while it is playing, or pause
the show then enlargen; in Netscape browser, the slideshow will
show acual size , usually about 640 width)
GEORGE G. HOYT FAMILY RE-UNION - REMUS, MI