STONE ANCESTRY PAGE
WELCOME !

HOME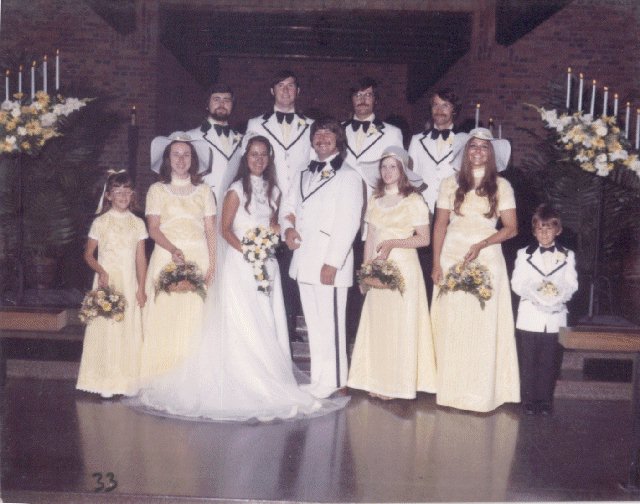 J. E. Hoyt Weds A. L. Stone
at St. Judes Catholic Church, Kent Co, Grand Rapids, MI on July 10, 1973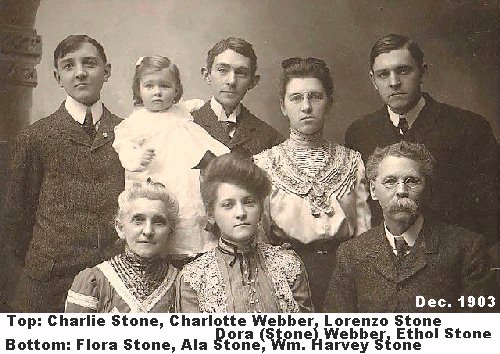 STONES of ALLEGAN, MI
Credit Allegan Stone Famiily History & Photos to: Timothy J. West // Mailto: gretjw@lakeland.lib.mi.us

ELIJAH JANES to FRANK STONE FAMILY HISTORY / GEDCOM FILES
(for Downloading & Viewing (ged browser)
View The 22 Generations of Descendants from Phillip Stone 1265 (.pdf) (.rtf)
View The 20 Generations of the DESCENDANTS of John Hoyt, of 1380,
to John, to Thomas, to Michael to Simon (2601) HOYT, Hoyte - (.pdf)
Dea. Gregory Stone Gedcom File STONE GED FILE - 18.5 MB's & Includes ALL EUROPEAN ROYALTY & ENGLISH LORDS TO THE 1400's (Email me for this large Ged file)
Same File only in Zipfile STONE ZIP FILE - 1.5 MB's
William ATTE Stone by Deacon Gregory Stone STONE ANCESTRIAL GENEALOGY
Stone Forum & Message Boards STONE FORUM & MESSAGE BRD-GENEALOGY.COM
My Stone Family back to 1265, Phillip Stone, clcik here, map.html version: 12/14/2007
Ann Louise Stone Family History Chart John E. HOYT - Ann L. STONE CONNECTION - 18th GEN
Frank Eugene Jr. & Sr. Chart FRANK E. SR.(#1738) CHART-16th GEN FRANK E. JR.(#1336) CHART-17 GEN
Jesse Eugene Stone Chart JESSE EUGENE STONE (#1740) CHART - 15th GEN
Elijah Janes Stone Chart ELIJAH JANES STONE (#1750) CHART - 14th GEN
Stone - Latter day Saints (Mormons) STONES - LATTER DAY SAINTS
OUR TIMOTHY HOYT 's (3341) file (ws-ftp-hoyt-timothy.ged) - 3.4 MB's
TIMOTHY HOYT LINEAGE GEDCOM FILE
COMPLETE SIMON HOYT/E (Patriarcal & Matriarchal) (ws-ftp-hoyt-simon.ged) as of 07-05-11 - 23.2 MB's
SIMON HOYT/E LINEAGE GEDCOM FILE
Updated WORLD Gedcom File 26.7 MB's: LATEST of My Total 'AUSSICKER-BAZAN-
COLEGROVE-DONALDSON-GEROULD-HOAG-HOYT-MILLARD-OLMSTED-STONE'
AND EUROPEAN ROYALTY, COMBINED GEDCOM FILE / 85,345 Individuals, 33,117 marriages.
World Royalty & Simon Hoyt's = (ws-ftp-hoyt-world.ged)
or Email Me, as too large for download
The principal source for this genealogy is Gregory Stone Genealogy: Ancestry and Descendants of Dea. Gregory Stone of Cambridge, Mass., 1320-1917, by J. Gardner Bartlett (Stone Family Association, Boston, 1918). (NOTE: William atte STONE is believed to be the great-grandson of Philip atte STONE of Great Bromley, Essex, b. abt. 1265.)
And the Update of Hoyt Family History of 1955 by Helen Faye (Hoyt) Smith, and my Father Paul M. Hoyt's records & History of the Timothy Hoyt's (2601)-HHH Book.
====================================
THE STONE FAMILY ASSOCIATION LINK:
-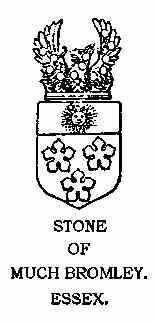 Courtesy of Stone Association web site link: http://www.stonefamilyassociation.org/index.php?pr=Coat_Of_Arms_Research
Update Coat-of-Arms Monday, Nov. 10, 1997Some time after R. C. Stone's book was published in 1866, he prepared an Addendum. A copy of this work was located by James Stone of Vestal, NY, in the New York State Archives.
This Addendum included the following changes to the Introduction on page VII of the original book.
His description of the Stone Coat of Arms is a follows:
CREST - Eagle Rousant
ESCUTCHEON - per Quartre
DEXTER CHIEF- Lone Star in Argent rising in Azure, below three cinque foils in sable standing in Argent
SINISTER CHIEF -Fleur de lis in Or Standing in Argent
DEXTER BASE - plain Argent
SINISTER BASE- Lion rampant, in sable standing in Argent
MOTTO - "Nothing of Humanity is foreign to me."
===================================

Jesse Stone & Nettie VANTINE Family Register
by L. Hole: (.rtf) Click here to download
(.pdf format)
DETAILS ON THE 8th CHILD (ANTOINETTE) OF CHARLES AND ABIGAIL VANTINE:
(Updated: November 12, 2004)
VANTINE & STONE FAMILY HISTORY
by L. Hole: (.rtf) Click here to download
(.pdf format)
Elijah J. and Jesse & Nettie Stone

(Click images to View larger images)
Marriage Announcement - St. Johns, MI Newspaper Account
Antoinette (Nettie Emma) VanTine

Stone - Obit

E J Stone

Duplain Township 1880 History Page 430 Clerk 1841 & 1847

Elijah J Stone

Duplain Township 1880 History Page 430 Treasurer 1851

Jesse Stone

ClintonCo Duplain Township MI Land Owners Map 1896, circled
(Click on each Thumbnail above to View enlargement of Image)
* Privacy & ID Piracy Rules are now in effect for individuals born after 1930. I have had to drop dates and notes for persons between that time of 1930 and the present year, unless they have a death date.
Thank You for understanding.
--------
IF YOU WANT A FULL GED FILE FORMAT (.GED) OF THE LATEST VERSION, WITH ALL THE CURRENT NAMES, DATES, PLACES, MARRIAGES, NOTES, & SOURCES,
PLEASE EMAIL ME FOR APPROVAL TO RECIEVE A COPY AT